In Unincorporated Seminole County Garbage, recycling, yard waste collection fees, and landfill disposal charges are billed to residents as a non-ad valorem assessment on the tax role. In compliance with Spring Lake Hills Governing Documents, trash and recycling is picked up from each resident's side yard utility. The side yard utility area must be visible from the road and cannot be behind a locked fence or one that is taller than 4'-5' in height.  Trash and recycling containers are NOT to be placed near the street or curb. Yard waste bins may be placed between the road and sidewalk.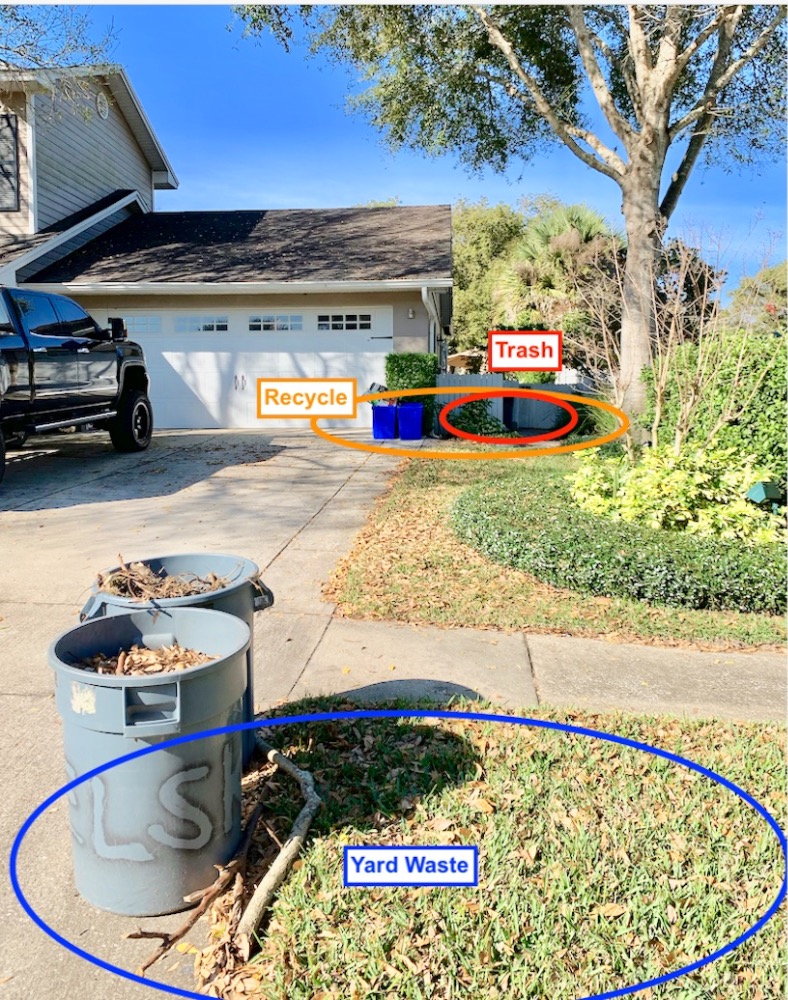 Under Chapter 125.01(q) of the Florida Statutes, the unincorporated Seminole County Solid Waste MSBU was enacted by Ordinance 94-7 on May 10, 1994, along with the associated solid waste franchise agreements. Solid Waste MSBU service became effective January 1, 1995. Currently,
Advanced Disposal
 serves as the contractor for hauling waste from Spring Lake Hills. Since Spring Lake Hills requires side yard trash and recycling pickup, the Board of Directors negotiated a 10% discount off the County's contracted rate by offering to pay Advanced Disposal directly. Accordingly, side yard pickup is included in homeowner's annual dues.
Service within Spring Lake Hills includes two household waste pickups weekly along with one yard waste and recycling collection. Any concerns regarding haulers or service problems are handled through the Seminole County Solid Waste Division. 
If you experienced a missed pickup, please call 407-665-2260 to report this incident and so they can reschedule a pickup. A message can be placed after business hours using their voice prompts phone system. In addition, please inform the SLH Board via email or phone, so the board can document and address the issue directly with Advanced Disposal.

HOUSEHOLD WASTE - Weekly Pickup Tuesday & Friday
Garbage will be collected from the side yard utility area of each home.
DO NOT PLACE HOUSEHOLD WASTE AT OR NEAR THE SIDEWALK OR CURB
. Use standard 32-gallon cans with handles and a tight fitting lid. 32-gallon sealed bags are also acceptable. Do not use boxes or homemade garbage containers. Each container must not weigh more than 50 lbs. Never mix garbage with yard waste or hazardous materials. The 
2016 Bear ordinance
for Seminole County prohibits outdoor storage of food waste in containers that are not bear proof. If you are not using bear proof containers, you must keep waste indoors or secured in a garage or shed until 5am on pick-up days.
YARD WASTE - Weekly Pickup Wednesday
You may dispose of up to ten 32 gallon containers of yard waste (leaves, grass, weeds and trimmings). Leave containers on front swale or on your driveway between the sidewalk and road.  DO NOT PLACE YARD WASTE ON THE ROAD OR SIDEWALK. Containers can be bags, cans, or tied bundles. Each container must way less than 50 lbs. Bundles should be tied securely not exceed 4 feet in length. Diameter of branches in bundles should be no more than 4 inches. Bring yard waste out either Tuesday evening or Wednesday morning. 

RECYCLING - Weekly Pickup Wednesday
Place containers in side yard utility area or in front of your garage door closest to your side yard.
DO NOT PLACE RECYCLING BINS AT OR NEAR THE SIDEWALK OR CURB.
Seminole County provides 
FREE Recycling Bins
 to Seminole County residents. 
You may recycle:
Aluminum

Steel food and empty aerosol cans

Green, clear and brown glass containers

Newspapers

Plastic containers marked with #1 and #2 symbols within a recycling triangle on the bottom.
REMEMBER TO REMOVE ALL LIDS & CAPS, RINSE ALL CONTAINERS THOROUGHLY TO PREVENT ODORS, AND PLACE RECYCLABLES IN APPROPRIATE RECYCLING BINS.
You may NOT recycle m
etal, plastic or glass containers that have held oil, fuel, pesticides, herbicides, paints, solvents, anti-freeze, pool or lawn chemicals, or any
hazardous waste
. These items must be taken by the homeowner to the
Central Transfer Station
for responsible disposal.
Household trash
Yard trash
Tires (Limit of 4)
Recyclables and Household Hazardous Waste
Clean Corrugated Cardboard (Free of Charge)
The following material is NOT accepted at the
Central Transfer Station:
Construction & Demolition Debris (This includes items such as steel, glass, brick, concrete, asphalt, roofing materials, pipe, wallboard, and lumber)
Asbestos
White Goods (Appliances)
Furniture
Tree Stumps and Large Branches
Items NOT accepted at the Central Transfer Station may be accepted at the 
Seminole County Landfill